---
Read my Special Feature

Great music for Valentine's Day!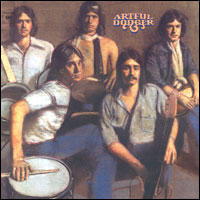 At this late date, it's easy to forget that power pop wasn't always a world unto itself. In our media-saturated society - where movements are named almost before they exist (emo, anyone?) - and in a music scene overcrowded with subgenres and fill-in-the-blank-cores, it's hard to remember a time when bands weren't instantly labeled and categorized the moment their first record hit the rack. Nobody called the Beatles a "power pop band," nor did anyone say that about Badfinger, Big Star, or the Raspberries. As power pop developed (largely underground) in the 1970's, a number of bands came and went that helped define the form and push the envelope of what became power pop. Despite frequently laudatory press, nearly all of them (with the exception of Cheap Trick) are forgotten to all but the faithful.
None are more unjustly and completely overlooked than Artful Dodger. Like most 70's groups now classified as power pop, Artful Dodger probably thought they were playing rock 'n' roll they way it ought to be played - melodically and with great abandon. They took the guitar crunch of the Rolling Stones, fused it with the vocal harmonies of the Beatles, and put both in service of classic songwriting; the resulting music stood in dramatic relief from the lightweight pop and pompous rock of the day. By the early 80's, however, the band broke up with little to show for their years of hard work than four albums (three of them great), glowing reviews, and obscurity (save fanatical followings in Cleveland and Pittsburgh).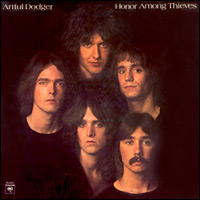 Originally called Brat, Artful Dodger was formed in 1973 in Fairfax, Virginia, out of the remains of two local bands, Homestead and Badge. Creatively, the key members were Gary Herrewig (guitar) and Billy Paliselli (vocals), who wrote most of the songs as a team, and Gary Cox (guitar and vocals), who also wrote songs (usually by himself). Steve Cooper (bass) and Steve Brigida (drums) were an outstanding rhythm section; Brigida, in particular, was an ideal foil for the band's songs, combining the steady timekeeping of Charlie Watts with the flash of Keith Moon. The group's first release was a self-produced single, "Not Quite Right" (which never made it to LP) backed with "Long Time Away" (rerecorded later for their first album).Armed with this impressive 45, Brat relocated to the Big Apple and, with help from the New York Dolls' management, signed to CBS Records. After choosing a new name (another Brat had prior claim), Artful Dodger released their self-titled debut in 1975.
Produced with a refreshing lack of clutter by Jack Douglas, Artful Dodger was a near-masterpiece that combined the best aspects of hard rock and Beatles-derived pop. "Wayside" (thanks to its inclusion on some latter-day compilations), has become the acknowledged classic, but the rest of the album, particularly the explosive "Think Think" and Cox's ballad, "Silver & Gold," is outstanding. Reportedly, the label's choice of the latter song as the album's lead single (not to mention a stunning lack of sales) was the beginning of a rift between Cox and the rest of the band. This didn't seem to make much of a difference, however, on the next album, Honor Among Thieves, which expanded upon the band's mastery of classic pop with a harder edge and more accomplished performances. Coproduced by Douglas and Eddie Leonetti, it lacked a stunner on the level of "Wayside" (though "Scream" comes close); if anything, though, Honor Among Thieves was better than its predecessor.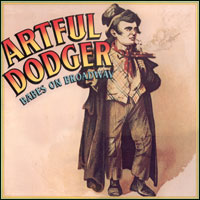 Once again, however, the record failed to sell. The press was supportive and the band toured relentlessly, but to no avail. They even did a stint during the summer of 1976 opening for Kiss. Jack Douglas was an associate of Bob Ezrin, Kiss' producer, and one imagines that this connection got Artful Dodger the gig. But, it's hard to imagine a more incongruous pairing - Jimi Hendrix opening for the Monkees (really happened, 1967) comes to mind - and it probably did the band as much harm as good. By the release of Babes On Broadway (1977), the strain of the band's experiences in the star-making machinery (including writing and recording three albums in three years) began to show. Produced exclusively by Eddie Leonetti, highlights on Babes On Broadway are few and far between, with "Can't Stop Pretending" standing out as the pick-to-click. It didn't, of course (click, that is), and Artful Dodger found themselves back on the street sans management, record deal, and founding member Gary Cox.
Happily, the band regrouped with piano/guitar whiz Peter Bonta filling in for guitarist Cox, and they signed to Ariola Records in 1980. The intervening three years had been eventful ones for rock music - punk happened, and power pop coalesced into an identifiable, coherent sound. On their first and only Ariola release (and their last overall), Artful Dodger is perhaps guilty of a self-conscious attempt to jump on the very bandwagon they helped create. The redeeming factor is, they succeeded magnificently.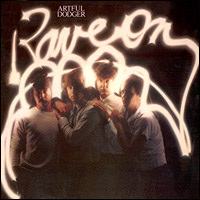 Rave On is an unqualified (if unheralded) power pop classic, contrasting starkly with Babes On Broadway in that highlights are difficult to isolate among a record so consistently fine. Certainly, however, "She's Just My Baby" warrants mention as an absolutely perfect pop single; Rave On, in fact, stands toe-to-toe with albums as great (and famous) as the Raspberries' Fresh and Badfinger's Straight Up. Artful Dodger plays as if they had something to prove (they didn't) and as if their life depended on it (it did), and their energy fairly leaps from the grooves.
Everything, including continued praises from the critics, seemed to point towards success at long last, but it was not to be. In a marketplace cluttered with skinny-tied popsters (and posers), Artful Dodger had become just one more band for the industry to toss against the wall of public taste, hoping they'd stick. While the Knack were selling millions, Artful Dodger were disintegrating after a final tour (see photos from that tour courtesy of reader Ray Nimrichter).
Billy Paliselli, whose raspy, impassioned vocals and pretty boy looks were key to the band's appeal, left to spend more time with his family; in 1982, a dispirited Artful Dodger broke up. In the early 90's, they played some reunion shows in Cleveland (where they still get airplay), but the reunion didn't take, and nothing has come of the band since. Sony briefly issued Honor Among Thieves on CD in the early 90's, and, supposedly, both Artful Dodger and Honor Among Thieves were reissued on CD by indie Pendulum records in 1997 - but I've never seen them (and I worked in the record industry for over a decade).
In 2008, the little American Beat label reissued Honor Among Thieves. Can Artful Dodger's other albums be in the works? I hope so, but I cannot recommend too highly hunting down these albums - on vinyl or CD - whatever it takes.
Consumer's Note: Artful Dodger is not to be confused with the identically named U.K. garage-house artist, circa 2000. Many websites - including Amazon - do exactly that, attributing the works of one to the other. The albums listed below (along with some exceedingly rare, grey-market CD's) are the only ones Artful Dodger - the power pop band - ever released. [top of page]

Selected Artful Dodger Albums

Essential Artful Dodger Songs
Babes On Broadway (1977)
Can't Stop Pretending (1977)
Come Close To Me (1980)
Dandelion (1976)
Follow Me (1975)
Forever (1980)
Get In Line (1980)
A Girl (La La La) (1980)
Honor Among Thieves (1976)
It's A Lie (1980)
It's Over (1975)
Keep Me Happy (1976)
Not Enough (1976)
Now Or Never Mind (1980)
Scream (1976)
She's Just My Baby (1980)
Silver & Gold (1975)
Think Think (1975)
Wayside (1975)

Artful Dodger On The Web

Feedback
Your witty comments, impertinent questions, helpful suggestions, and angry denials are altogether encouraged. Submit feedback via email; submissions will be edited and posted at my discretion.
December 1, 2005. Thought you might find this interesting - we're doing a reunion show this New Year's Eve at Cleveland's Agora Ballroom. The Agora is celebrating it's 40th anniversary throughout 2006 with Flashback concerts, and we were asked to kick it off with a show on Dec. 31. The club plans to have a Flashback show each month with a band from the 70's through the 90's. Don't know who else is on board at this point, but it sounded like fun to us, and all the members of Artful Dodger are participating. Happy Holidays to you and yours. - Steve Cooper (bassist for Artful Dodger)
November 28, 2004. Artful Dodger is one of the all time best power pop groups of the 70's. They definitely rank with Badfinger, Big Star and Raspberries (the power pop "big three") but did not receive the acclaim that they should have. I was fortunate enough to see Artful Dodger in 1991 as well as acquire video and audio recordings of that show. I have linked your entry to our Artful Dodger Group over at Yahoo Groups, and I respectfully ask if you would be willing to add us to your links section. We're small but growing and we hope eventually to serve as an on-line database for all things Artful Dodger as well as demonstrate to the boys in the band that there are still people out there who want to see them play again one more time! Thanks. - Chris Noga
[close]
November 11, 2004. Wow. I thought I had found everything there is to see on the web about Artful Dodger, but I stumbled across your site today. Great bio of the band! I was lucky enough to see them - 13 times, all in the Cleveland area, including the '91 reunion. Great memories of their live shows, including Steve B. tossing his drumsticks to me and my friend at the front of the stage. We saw them so often, they started to recognize us! I was even a member of the fan club. Any other "Pack" members out there? I hope the guys are all doing well - good to see the message from Steve C. on this site. Still hoping for Rave On to come out on CD! - Mark Tollafield (Mentor, OH)
February 5, 2004. Thank you so much for the exhaustive history and discography of Artful
Dodger. As a former Clevelander now living in Austin, it's heartening to see that this band has maintained a following after all these years. I saw Artful Dodger in 1976 at the Richfield Coliseum outside of Cleveland on the Kiss tour. Needless to say, seeing my two favorite bands on one stage at the age of 16 was the seminal experience of my adolescence. Keep up the great work on the website! - Tom Watterson
January 30, 2004. I really like your profile on the Artful Dodger. Although I have their first two albums on CD, I really wish they were all available. I had the privilege to see them live at the Cleveland Agora back in 1991, and it was like they had never left. The band sounded very tight like they had never broken up. During the show singer Billy Paliselli announced to the audience that there would be another album; unfortunately the new album never came to reality. All I can say is that the Artful Dodger deserves more credit than they have received as musicians and songwriters. - John MacKay
December 13, 2003. I would like to thank you for the information on Artful Dodger. They remain one of my all-time favorite bands. I was fortunate enough to see them live many times, in the Washington D.C. area, including at the "Psyche Delly" in Bethesda. Many of their songs sound as good today as they did then!! What an underrated band!! I'd be interested to hear what the band members are doing these days and also if anyone knows how to get the Jester CD mentioned below. I am hoping you will post this on your site. Thanks again for the great info on one of my fave bands!! - Rick Hepner (Rickinmd@yahoo.com)
October 22, 2003. Great article on Artful Dodger! Absolutely my favorite band of the 70's to which I very fortunate to see at the Cleveland Agora three times. I have their four albums, which I think are just fantastic. To this day I still need my Artful Dodger fix now and then.
At their Rave On tour in 1979 I took several pictures of the guys, you may want to post them on your web site. - Ray Nimrichter (click here to see Ray's pictures)
August 21, 2003. Great job on the Artful Dodger page... Cleveland still remembers the band, and, yes, they still get played - even with today's strict radio formats. The last show was in April 1991. At the end of the show, singer Billy Paliselli said, "It won't be ten years 'til we see you again," and he was right - it's been twelve! Too damn long!! - Bill Louis (98.5 WNCX, Cleveland)
February 14, 2003. Just wanted to say thanks for the Artful Dodger page in your Power Pop section. You are right on the money, not only with your opinions, but also with the facts surrounding the bands history and demise. You've obviously done your homework. To date, it's my favorite epitaph for the band - should make an excellent last page for my scrapbook. Cheers! - Steve Cooper (bassist for Artful Dodger)
December 27, 2002. I read your Artful Dodger review and noticed your comment about the first two LPs being reissued by Pendulum on CD in 1997, but that you had never seen them. They do exist, and I have them both. Actually, you would not even have noticed the difference between the original release and the Pendulum versions. The only difference is in the bottom left hand corner on the back above the copyright, it says in small red letters, "Pendulum Entertainment Group, Inc." The discs themselves are picture discs based on the album covers, so they look pretty cool. The originals CDs were pretty plain looking as I recall.
Also, someone calling themselves Artful Dodger Records released a greatest hits CD with 16 songs in 1999 called Jester. The CD insert was rather cheesy, probably done on a home computer. I purchased Jester at a small record store in Cleveland a couple years ago. The sound quality was excellent, and it included most of the songs from the Rave On LP. - Jorge Gonzalez
October 22, 2002. It was great to see a page dedicated to one of my favourite 70's bands, Artful Dodger... your info filled in a few blank spaces for me as to their history and discography. I guess I'll have to search for Babes On Broadway... I do have all their other releases on vinyl, as well as a "promo only" one-sided 12-inch with three tracks from Rave On, as well. I do have the first and second album on CD... I was surprised you didn't mention the song "Remember" from Honor Among Thieves as an essential song - one of my all time favourite tracks! Well, carry on. Your site is excellent! Greetings from Canada, eh? - Alex Stangl (visit his website)