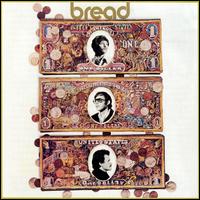 James Griffin must have been one pissed off guy. Over the course of six albums spanning the first half of the 70's, his group Bread scored twelve Top 40 singles, and not one of them was a Griffin composition. Only one of his songs ("Could I," 1969) was released as a 45, and it flopped unceremoniously. James Griffin wrote and sang fully half of Bread's songs (quite distinctively, I must insist), but now everyone thinks Bread was David Gates' band. True, Gates composed and warbled of all those hits, including "If," "Everything I Own," and "Guitar Man," and Griffin, at least, earned roughly equal royalties from the group's record sales. His songs and voice produced a rougher, more manly impression than Gates' sweet pop, but after a couple of Gates-helmed smashes (including "Make It With You," Bread's first hit and only #1), the die was cast. Griffin was relegated to the b-side of all subsequent singles, doomed to a supporting role in the soft rock juggernaut Bread would soon become became.
James Griffin's biggest individual success, in fact, was "For All We Know," a song he cowrote with fellow Bread player Robb Royer for the movie Lovers And Other Strangers (1970). The song won an Oscar, but it became a runaway smash hit (and perennial slow dance request) only when covered by that other pillar of 70's soft rock, the Carpenters. Jeez, Jimmy Griffin couldn't catch a break - even when he wrote a hit he didn't have a hit.... Regardless, one inescapable conclusion one draws from listening to Bread's records is that Griffin was - however unheralded - pretty damn good. His pithy, organic songs and his brusque tenor provided a refreshing counterpoint to Gates' doe-eyed melancholy. In a way, Griffin played Keith against Gates' Mick, ever the rocker (relatively speaking) in a band dominated by an unrepentant pop star.
Truth be told, James Griffin really was pissed off - for a while, at least. As Bread grew more successful, he sunk into substance abuse. When the band began to splinter, he sued the crap out of them to prevent them from carrying on as "David Gates & Bread." Ultimately, Griffin cleaned up and, by all accounts, was a prince of a guy - equally devoted to his friends, his family, and the music that sustained him. Moreover, he made peace with his unwilling role as second fiddle in one of the world's most famous bands. He even covered David Gates' "Everything I Own" - beautifully, I might add. But, I get ahead of myself....